Eight Animals Bake a Cake - Pineapple Upside Down Cake
Boomette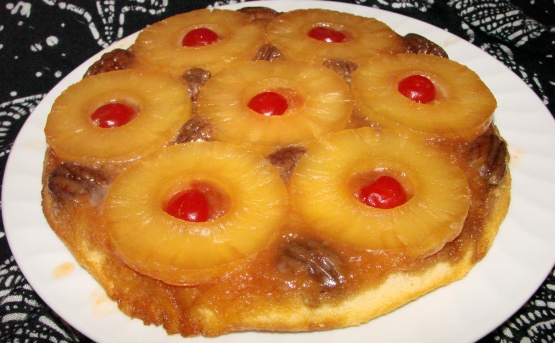 This recipe is from the children's book "Eight Animals Bake a Cake" by Susan Middleton Elya. We checked the book out from the library and were surprised to see a recipe at the end of the book. We made the cake the next day. A classic upside down cake. Delicious and beautiful.

I liked the cherries inside the pineapple rings.I love that is so quick to put together and it tastes so good. I made the batter.
Preheat oven to 350 Fahrenheit.
In a 9" x 13" baking dish (I used a 9" round, I can't imagine the batter covering a 9x13 pan), arrange the eight pineapple rings on the bottom (I used 7).
Put one cherry in the center of each ring.
Place the pecans around the edges of the rings.
Melt 1/4 cup butter in a small glass bowl for 30 seconds in the microwave. Stir in the brown sugar. Pour the mixture over the pineapple rings. Set dish aside.
In a medium bowl, mix the flour, sugar, salt, baking powder, milk, 1/3 cup butter, egg, and vanilla. Beat for three minutes with a mixer. Then pour the mixture over the pineapple in the baking dish. Bake at 350 degrees for 35 to 40 minutes. Let the cake cool. Cut into pieces and flip them onto serving plates, or flip the entire cake over onto a serving platter and slice.