3 Reviews
Most Helpful
Newest
Highest Rating
DH and I made this recipe upon the recommendation of a friend and really enjoyed it. It was very easy to make and the flavor was delicious! I added this to my list of keepers. Thanks for posting!
This is one of those recipes that I find now and then that deserve more than 5 stars! Absolutely delicious! Flavors are all very subtle and nothing overpowers anything else. I halved the amount of shrimp called for because I was serving as a side to a chicken breast, but with the full amount, this would make an excellent dinner on its own! And very quick and easy! Thanks for another keeper!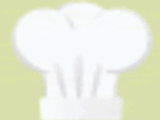 Never being able to leave well enough along, I made this with coarse (#3) bulgur wheat, soaked overnight in chicken and veggie broth, rather than the couscous and marinated the shrimp overnight as well. I also boosted the seasonings a little and almost doubled the garlic, and it still was not too highly seasoned. Next time, I think I may give the spinach a quick saute and stir it into the bulgur, rather than bedding with it. This was really delicious, and I am sure I will be fixing it often. Thanks for sharing.
Egyptian Toasted Pine Nut Couscous With Garlic Shrimp