Kitty Z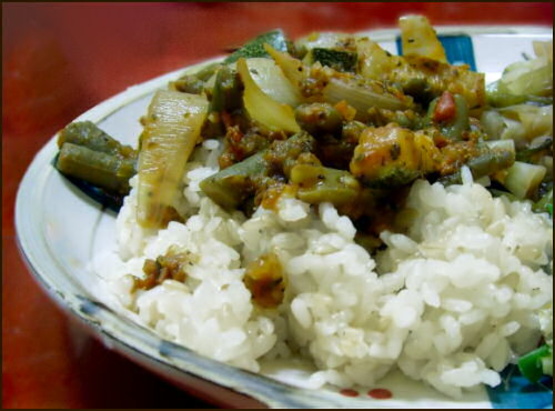 A delicious and simple, yet exotic, vegetable rice dish! You can adjust the seasonings to suit your taste. My personal preference is to go light on the curry and heavier on the sage and tarragon.

I'm so slow to review this! Made for NA*ME's Dish of the Week - we all really enjoyed this dish & it reminds me of something I've had before. I though all the flavours went well together & we will be eating this again soon. Only thing / changed was I used chicken cubes in place of beef cubes. Thanks for posting this tast recipe :)
Cook rice in water with bouillon cubes, uncovered until water boils out.
Separately cook zucchini, green beans and onion in tomato sauce for 10 minutes.
Add spices and cook 10 more minutes.
Pour over rice.