COOKGIRl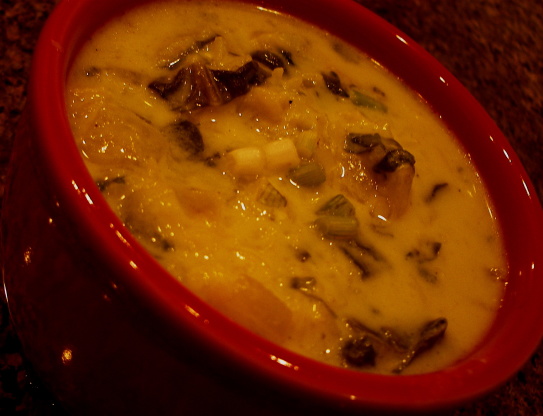 This recipe is from chef Nora Pouillon, owner of Nora's in Washington, DC, a "certified" organic restaurant and a quite wonderful place to dine. Vegetable stock may be substituted for the chicken broth.

Absolutely awesome! The flavours are so warm and comforting. I made as directed except I left the baby spinach whole. This will be enjoyed many more times. Thank you Chef Kate for sharing this really yummy recipe!
Heat the olive oil in a large saucepan and saute the onion until soft.
Add the turmeric and cook a further minute to let the spice warm through.
Add the stock, scallions, rice, salt and pepper.
Simmer gently for approximately 15 minutes until the rice is cooked.
Do not overcook.
Cut the spinach into chiffonade, add to pan and cook for another five minutes.
To serve hot: Beat yogurt and garlic into the soup, and reheat gently so the yogurt does not curdle.
To serve cold: Allow soup to cool, add yogurt and garlic and puree.
NOTE: 1/4 to 1/2 teaspoon Madras curry powder can be substituted for the turmeric, depending on how fragrant you want your soup to be.