Egyptian Milk Pudding (Mihallabiya)
Um Safia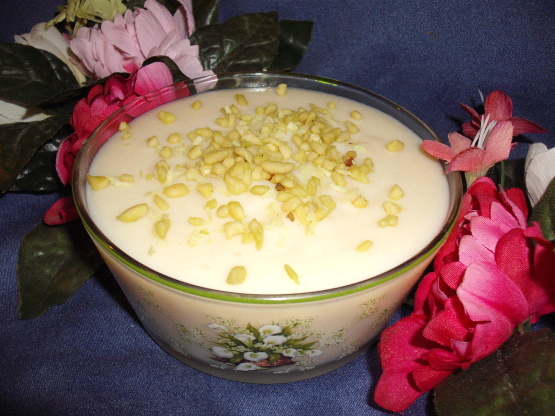 This sounds very interesting indeed. I have no idea how long it would take to grind rice and I wonder if rice flour wouldn't work?. I'm guessing at the time required. Posted for Zaar World TourIII. *Update Aug 31 '09: those who know say that rice flour will not work here. You'll need ground rice to make this recipe come out right. I have also lowered the sugar content.Thanks you ladies for the insight :D

If you own a coffee mill you can grind your own rice flour. I have a coffee mill I use for this purpose a save my other mill for grinding coffee. Egyptian milk pudding is one of my favorites. This version came out a little too thin for my tastes so I ground up about one tablespoon more of the rice, covered the pan and simmered on low for six minutes. I added a pinch of ground cardamom and a few saffron threads. Reviewed for Veg Swap #19-2010.
3

tablespoons finely ground rice

3

cups milk
2 1⁄2 tablespoons sugar (more if you like)

1

tablespoon rose water (or less to taste)

2

tablespoons mixed nuts, chopped
Add ground rice to 1 cup of milk.
Dissolve sugar in the remaining milk and bring to a boil.
Add the rice-milk mixture, lower heat, and cook-stirring occasionally-until the pudding thickens like thin custard.
Remove from flame, stir in the rosewater, and pour into a shallow serving dish. Sprinkle top with nuts.