Egyptian Fattet Salad (Layered Chickpea Salad)
Elmotoo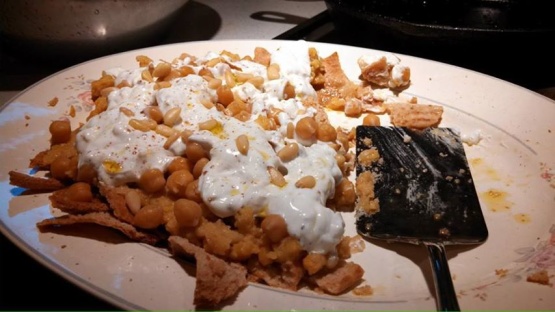 This recipe is in my Mediterranean Light cookbook and I finally got around to trying it. The author describes this layered salad as "almost like a hummous casserole." All fatta recipes, whether prepared with meat or vegetarian use day old pita bread. If you're wanting lots of lemon, lots of garlic-this is it. PS< The olive oil and pine nuts are my addition.

This was really, really good! It was gobbled up quickly by my hungry family and some guests, as an appetizer before a dinner party. I did make a few substitutions: instead of pita, I used my own recipe#232706. I also used recipe#71032 (since I discovered this, I will never buy store-bought yogurt again!) And since my garden is under snow and ice, there will be no more fresh mint until early summer :-( so instead I used fresh flat-leaf parsley. I also used two cans of garbanzo beans instead of soaking and cooking dry beans. All told, I don't think my substitutions changed the final outcome very much. I also used a standard fluted coffee filter instead of cheesecloth to make my yogurt thicker, placed in a colander, in a bowl, in the refrigerator. OK -- that's all my changes! :-) Thanks for a delish dish, Cookgirl! Made for NAME Tag!
Use a small mixing bowl and drain the yogurt for 1 hour in a strainer liner lined with cheese cloth.
Place the soaked beans in a large pot of water and bring to a boil. Reduce heat, cover and simmer 1 1/2-2 hours or until beans are very soft.
Separate each pita bread into two pieces and toast or bake in hot oven until browned and crisp.
Lightly oil a serving platter. Once pita is cool enough to handle, break up into pieces and line the bottom of the baking dish.
Drain the chickpeas and *RESERVE* the liquid. Coarsely puree *HALF* of the beans along with the juice of 1 lemon, 1 garlic clove, cumin and 1/2 cup cooking liquid. Add salt and adjust other seasonings if necessary.
To the drained yogurt add the 3 garlic cloves, tahini (if using) and black pepper.
Place about 1/2-3/4 cup of reserved cooking liquid in a measuring cup. Squeeze the remaining juice of half the lemon into the liquid. Lightly sprinkle the lemony liquid over the broken up pita bread pieces just until the bread is moistened but NOT drenched.
Next top the moistened pita bread with the chickpea puree. Spread the remaining whole chickpeas over the puree. Drizzle about 2 tablespoons olive oil all over. Top with the yogurt mixture. Sprinkle with the pine nuts.
Garnish with the fresh mint.
NOTE: Salad is best eaten at the same meal as the dish does not store well.
Yield: 6 servings for a meal or [may] serve more if served as an appetizer.