Boomette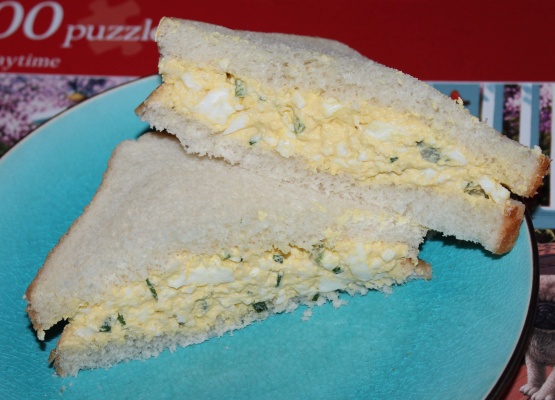 I have accepted an egg salad cook off challenge, and am delighted to submit my entry here, because it is a winner. Developed in my own kitchen with no assistance from outside sources, other than internal verbal encouragement. Lip-Smacks and loud Cheers of YUM YUM could be heard throughout the house; every great chef strives to hear YUM YUM. Warning: Please do not attempt to express an opinion, with your mouth full of egg salad; it is off-putting, and not a pretty sight.
I made this egg salad for me and DH and for my son, I gave him his part before adding the balsamic vinegar. It adds a great taste to the egg salad that me and DH enjoyed. Thanks Toolbelt Diva :) Made for Name that ingredient tag game
6

large eggs, unbroken

1

stalk celery, complete with leaves chopped fine

2

tablespoons fresh chives, chopped fine

1

tablespoon fresh Italian parsley, chopped fine
1⁄8 teaspoon coarse black pepper
1⁄4 teaspoon balsamic vinegar
1⁄2 cup mayonnaise, more if desired for consistency

24 -40

slices pumpernickel rounds or 24 -40 slices rye bread or 24 -40 slices crackers
Place unbroken eggs in a pan of cold water.
Turn on cook top burner.
Place pan of eggs on burner and bring to a boil.
Turn down heat on element and allow to continue boiling for approximately 5 minutes.
Remove from stove element and set aside.
In a separate bowl mix all chopped vegetables together Add black pepper, balsamic vinegar and mayonnaise.
Remove eggs from pan of water.
With the blade of a table knife, chop the cooked eggs in half.
Scoop out the cooked eggs; discard the shells.
With a kitchen fork, crush the cooked egg halves.
Transfer vegetables to crushed eggs.
Mix well with mayonnaise.
Add more mayonnaise as you wish for personal consistency preference.
Spread mixture generously on bread (s) or crackers of your choice.
Serve to squeals of delight.