Derf2440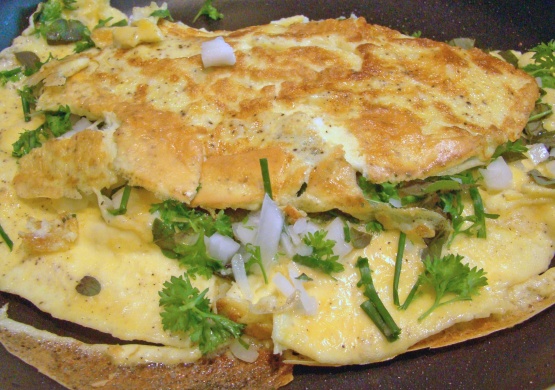 Quick, easy and tasty! made for the magic of herbs event in the photo forum, Aug/09. I used parsley, chives, basil, oregano out of the garden and a sweet walla walla onion, turned out delicious! To cut back a bit on the calories I used 2 teaspoons of olive oil instead of the butter. Also cut back the recipe to a 3 egg omelette. I enjoyed it very much and will make it again, thanks for posting.
In a large nonstick skillet, over medium heat, melt the butter.
In a large bowl, whisk together the eggs, the milk or water, the salt, and the pepper. Pour the mixture into the pan and cook, stirring occasionally, to desired doneness, 4 to 5 minutes.
Fold the herb and scallion mixture into the cooked eggs.