Nimz1466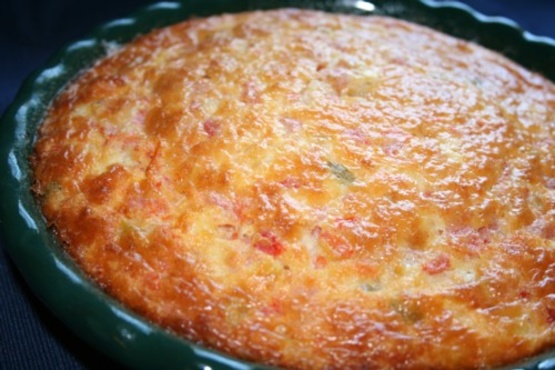 Here is another easy and quick breakfast casserole. Dave really liked this one.

Top Review by Merlot
You did it again, Nimz, another great dish. It reminds me of Huevo Rancheros. The Rotel/green chilies really gives the dish a nice kick and makes this so special compared to other breakfast dishes. I loved how easy it is to prepare too. I'm putting a copy of it in our motorhome as it will be VERY convenient to make while traveling. Good job, Nimz!
Preheat the oven to 350 degrees.
Lightly oil a 10 inch pie plate.
Beat the eggs in a large mixing bowl.
Stir in the Monterey Jack, cottage cheese, butter, flour, baking powder, salt and Rotel tomatoes.
Pour into the baking dish, and bake for 40-45 minutes, or until the eggs are set.
Cool for 10 minutes.
Cut into squares and serve with salsa.