ImPat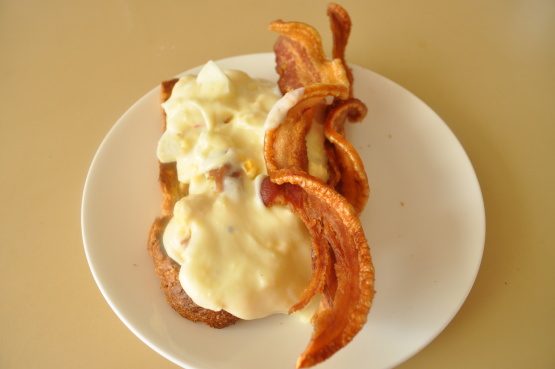 This is a favorite of a local dentist that was printed in our newspaper back in 1989. Simple, hearty and delish!

Very good, hearty breakfast. It was something different that plain old bacon and eggs or a breakfast sandwich. It was pretty easy too. as I used real bacon bits. If you used cooked sausage, it would kind of be like a biscuit and gravy breakfast. That is what I will try next time.
In a saucepan, over medium heat, melt butter and mix in flour til smooth.
Gradually blend in milk, salt and pepper.
Cook, stirring until thickened.
Add cheese and stir until melted.
Gradually mix in chopped eggs and bacon.
Serve hot over biscuits, English muffins or plain toast.