Pamela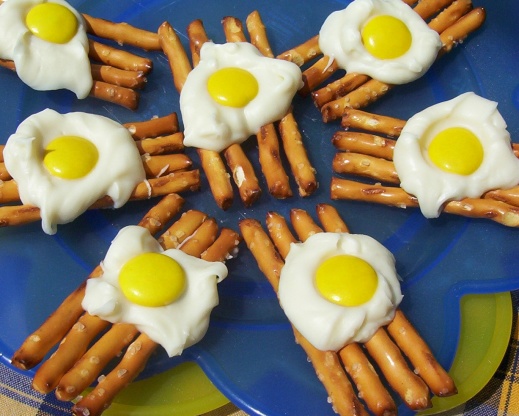 A fun snack to make and eat! This is a great recipe to get the kids to help you with. You can speed up the cooling time by putting the pan into the fridge for about 5 minutes. (Cooking time is cooling time)

I remember eating these back in elementary school and was so excited now to find a quick, easy method for putting them together. Delicious, adorable, and even funny-these are such a sweet/salty treat! I didn't change a thing and they came out perfectly. Thank you so much!
200

g white chocolate

30

yellow smarties candies

120

straight pretzel sticks
Spread wax paper on a cookie sheet.
Arrange pretzel sticks, laying side by side, into groups of four.
Melt white chocolate.
Drop a small amount (approx. 1 tsp) onto the center each group of 4 sticks.
Top each "egg white" with one yellow smartie.
Cool until set.