BarbryT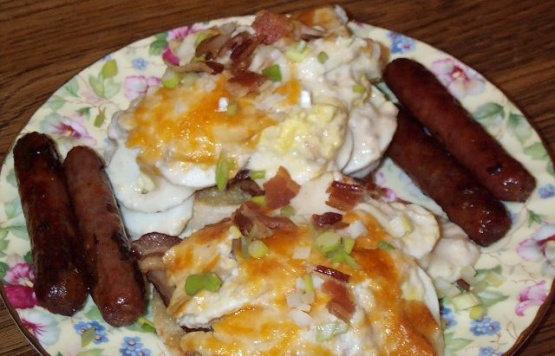 This is an excellent egg casserole for a crowd. Cook time does not reflect the time it takes to hard boil the eggs or cook the bacon.

This was fantastic. I cut the recipe in half and it was the perfect amount for 4 people. My husband and I are visiting my parents for the weekend so I wanted to make them something special and a little different for breakfast. Everyone loved it. My mom was out of cream of mushroom soup so I used cream of chicken. Thanks so much for posting this delicious breakfast recipe. :)
Preheat the oven to 350 degrees.
Butter a 13x9 inch baking dish.
Slice the eggs and layer them in the prepared pan.
Combine the soup, milk, sour cream, garlic salt, kosher salt, cayenne pepper, and black pepper in a large bowl and mix well.
Add 1 cup of cheese to the mixture.
Mix well and spoon evenly over the sliced eggs.
Bake for 45 to 50 minutes, or until bubbly and lightly golden.
Last 10 minutes of baking, sprinkle with the remaining cup of cheese.
Place 2 slices of bacon, criss-cross over toasted and buttered English muffins.
Cover with eggs mixture.
Garnish with chopped green onion, black olives, grated cheddar cheese, or mushrooms, if desired.