Bergy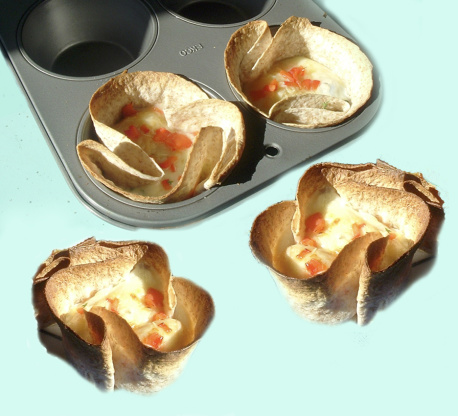 This recipe, originally from a Canadian Living cookbook, is for 6 -- but you could make just 1 or lots. These are a real treat for breakfast/brunch/lunch. Add some chopped ham if you wish; I've added snips of smoked salmon and it's divine.

I really loved the idea of a tortilla "bowl" for the containter. It worked really well. I did find the pepper and egg filling a little bland. I think I'd add some refried beans and salsa next time. Could really expand this by using fillings such as taco, seafood or cooked chicken. Good recipe.
Preheat oven to 375F degrees.
Spray 6 ramekins or custard cups with non-stick cooking spray (like Pam) and gently push a tortilla into each; you'll have to make some pleats.
Reserve 6 teaspoons of the finely diced red pepper; combine remaining pepper with onions and parsley in a small bowl.
Divide veggie mixture between the 6 tortillas.
Crack 1 egg into a small bowl and gently tip into one of the tortillas, placing egg on top of the veggies; repeat until all 6 tortillas are filled.
Sprinkle with salt and pepper if you wish.
Place baking sheet in the oven and bake for 20 minutes.
Remove and sprinkle 1 tsp of the raw red pepper you saved on top of each egg; serve.
Variation: sprinkle some shredded cheddar or mozzarella on top of eggs before baking.