Eggs-in-Hash-Nests With Corn Muffins
Prep 10 mins
Cook 15 mins
This is a really quick and easy recipe that I got from a Betty Crocker Recipe Card Library. I made it for my family while we were camping at our cabin and everyone loved it.
1 (15 1/2 ounce) can corn beef hash
6 eggs
salt and pepper
1 (8 1/2 ounce) box Jiffy corn muffin mix (or other corn bread or muffin mix)
1 egg
1⁄3 cup milk
Directions
Heat oven to 400 degrees.
Grease 12 muffin cups well and press about 2 tablespoons of hash in 6 muffin cups.
Make a deep indentation in center of hash.
Break an egg into eash hash cup and sprinkle with salt and pepper.
Prepare corn bread mix according to package directions using the egg and 1/3 cup of milk.
Fill remaining 6 muffins cups with batter; about 2/3 full.
Bake 15 to 20 minutes or until muffins are golden brown and eggs are desired doneness.
Most Helpful
Very good! the only problem that I had was that I used a regular size muffin pan, it definitely needs the real big size. The eggs ran all over the top of the pan plus it did`nt use all the corned beef or the muffin mix. Beings the oven was at 400 I put sausages on a rack over a pie pan and they got done perfectly at the same time. I was also thinking maybe next time I`ll prebake the hash cups a little first before I add the eggs and muffins to maybe crisp them up a tad. This recipe is going into my Favorites do again cookbook. I will buy a big muffin pan for the next time, thanks for posting a great recipe and idea!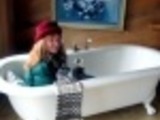 My whole family just Loved this quick and easy breakfast! I was out of corn bread muffin mix, so I used a lemon poppy seed mix. It was delicious and it was so nice to have only one pan to clean up. I would caution anyone who tries this to make sure you make the indentation in the hash deep enough, and do NOT use extra large eggs. (The white of the egg tends to spread out over the pan and makes it a little messy). I also found that 15 minutes was plenty of time to cook this - any longer and the yolks cooked too much. Thanks justaim for posting this fun and easy breakfast.