Ambervim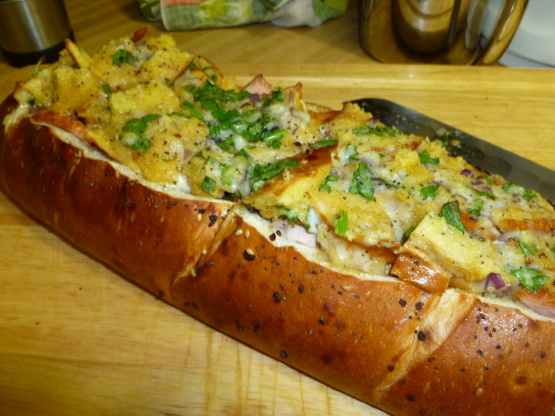 Martha Stewart made almost this on the Today Show the other day. I just made it and left it out, covered with a tea towel when I had a yard sale (for my helpers). All that was left was 1 piece....you know the last one no one will take just in case someone else wants it. People raved about it. Simple, easy and easy to handle as you eat it. I encourage you to make it your own. Use common sense here. If your baguette is very large or very small, adjust everything else.

So dang wonderful & YUMMY! Even the teens loved it! We had it for dinner but it would be great for breakfast / brunch too. I bought a 12", 3 cheese crusty baguette from Panera. The bread really should be firm on the inside. I would suggest cutting off the upper 1/3 (not 1/2) to leave more room for the egg filling. I used recipe#496356 to crisp up the prosciutto before filling the baguette. After removing the inside bread I brushed the inside with softened butter, put down a layer of crumbled prosciutto, then added the egg mixture. The egg mixture consisted of 2 T fresh minced parsley, 4 eggs, milk, diced provolone and grated parmesan and black pepper. I did not add additional salt because the cheese & prosciutto were plenty salty. Wrapped the lower half of the baguette in foil to bake (it did crack a tiny bit & leak). It took longer to bake, about 40 minutes, no problem. Just make sure the center is set. It sliced up beautifully. I served with a salad, fresh melon and bacon cuz bacon makes everything that much better. This is a winner and I will be making this every chance I get! YUM. Thanks Ambervin!
Preheat oven to 350°F.
Place baguette on a silpat lined sheet.
Cut a trough lengthwise in the baguette. Pull out the soft bread inside, no need to be precise -- you are just making room for everything else.
In a bowl whisk together eggs, milk, cheese, parsley, salt and pepper.
Add most of the soft bread after tearing to small pieces and mix.
Line the baguette with the prosciutto (or whatever you have chosen).
Pour the egg mixture the length of the baguette.
Bake for 15-25 minutes. You know it is done when the eggs are fluffy and firm.
Slice and enjoy.
You could make this in individual rolls.