Peter J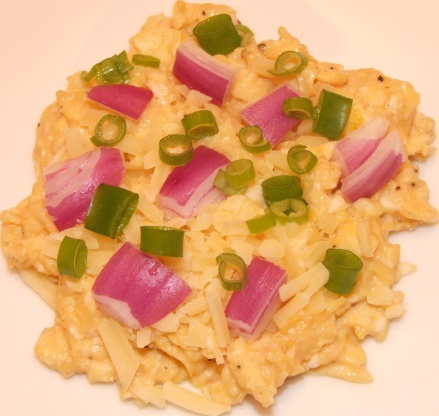 This is from the Hamilton Bed and Breakfast Inn, and is their specialty recipe. I hope you enjoy! This recipe is Southern, using red onions and cheddar cheese. It's also made alot in the Northeast, where they make alot of cheddar cheese.
In a mixing bowl break eggs and add salt and freshly ground black pepper. Add a level teaspoon of smooth Dijon mustard. Mix thoroughly and set aside. Prepare some finely chopped red onions or scallions or fresh chives. Have ready a fine grater, cheese, heavy cream and sprigs of parsley or fresh chive flowers for garnish.
In a large heavy saucepan place a teaspoon of butter and set over very low heat. When the butter is melted swirl to coat the bottom of the pan and add the egg mix. Stir continuously with a wooden spatula. When the eggs start to firm up and just before they are ready, add the cream and continue stirring.
For the best flavor and texture the eggs must be cooked slowly and stirred continuously. The eggs are cooked when they are still moist but well formed. Spoon onto a warm serving dish and sprinkle with the chopped onions or chives. Finely grate the cheese over the eggs, garnish with sprigs of parsley or chive flowers and serve immediately. Enjoy!
Serves: 2.