Junebug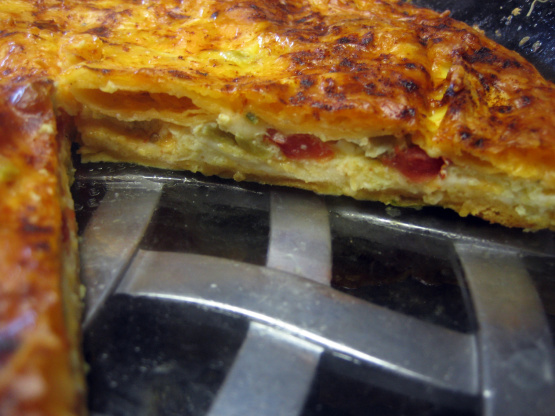 This is a great breakfast or brunch dish and a nice change from the usual breakfast type casseroles. Breakfast burrito lovers will enjoy this recipe.

This was quick and easy to assemble and uses ingredients I always keep on hand. I sucessfully cut it in half. Check it about 10 minutes early because mine cooked in a little less than the stated time, probably just due to differences in ovens. I loved the taste of this. The tomatoes added alot to this dish. Thank you for sharing your delicious recipe DDW!
Lay 1/2 of the chilies in a well greased 9X9 square baking dish.
Top with 1/2 of the tortillas and 1/2 the cheese.
Arrange tomato slices on top.
Repeat layers using remaining tortillas, chillies and then lastly the cheese.
Beat eggs and milk with all the spices except paprika.
Pour egg mixture very slowly over the tortilla layers. It will all fit - just have patience, rushing will only leave you with eggs flowing over the sides!
Sprinkle with paprika.
Bake uncovered at 350 degrees until center is set.
Touch lightly with finger to test (About 40-45 minutes).
Let stand for 10-15 minutes. The more "set" it gets the better it will slice and serve for you.
Top with salsa and sour cream.