TJW2725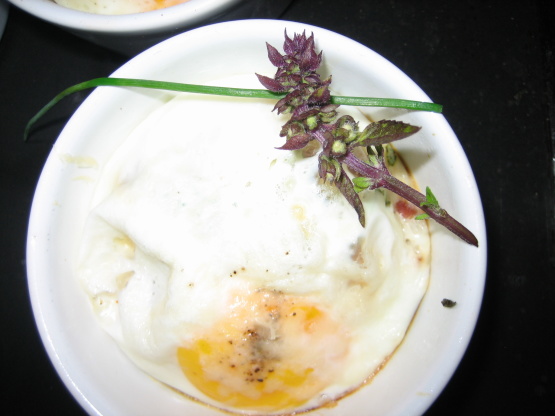 My mom has made this fried egg recipe since I can remember. She got this from a Spice Islands cook book she had many years ago. An egg is fried over crumbled bacon, fresh chives, and basil, and lightly covered with fresh grated parmesan cheese. They are simply TO DIE for. The secret for this recipe is the fresh herbs, they are a must.

What a great way to have eggs on a sunday morning! I followed jellyqueen's suggestion and used separate cups to bake the eggs. The whole family loved it and have asked for them again next weekend. Thanks TJW!
Preheat oven to 300°F.
Lightly grease 6 individual custard cups (Thanks Jellyqueen for the suggestion!), and inside make a mound consisting of one slice crumbled bacon, one teaspoon chopped chives, and one teaspoon chopped basil.
Break one egg into each custard cup, sprinkle each egg with one tablespoon (or more)cheese, cover with foil, and put in the oven until cooked to your desired doneness and the cheese is melted.
About 10 minutes for medium, depending on your oven.