Bergy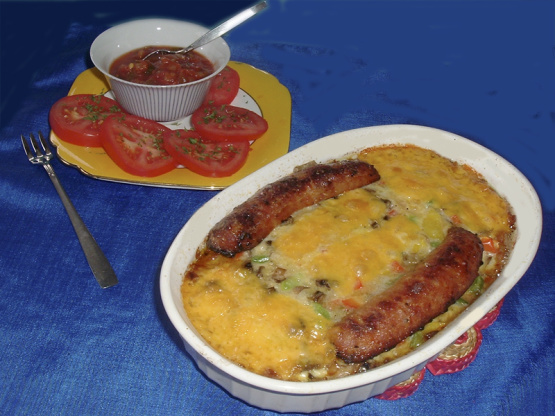 As seen in The Arizona Reporter.

Great. I used fresh potatos instead of hash browns, and turkey sausage, and it turned out tasty. The egg topping gives a good glaze.
Press the thawed hash browns between paper towels to remove moisture.
Spray quiche pan with nonstick spray.
Press hash browns into pan forming a crust and brush with butter.
Bake at 450 degrees for 30 minutes.
Remove crust from oven and sprinkle with cheddar cheese.
Spread sausage, peppers and mushrooms in crust.
Beat together eggs with milk and add salt and pepper.
Pour egg mixture over ingredients in crust.
Bake uncovered at 350 degrees for 30-40 minutes.
Slice and serve with tomatoes, avocado and salsa on the side.