3 Reviews
This recipe has the potential to be a five-star dish. The flavour is very nice, but I would make three changes — reduce the flour (that extra teaspoon meant the sauce retained a floury taste), saute the onions briefly and double the spinach. My greatest concern was the timing, which was way off. True, the sauce can be made in 10 minutes, but all the other components need attention, and if you are making sure the sauce does not boil, then you do not have free hands to chop and cook the spinach at the same time. I am fairly quick in the kitchen, but by the time I got everything ready and cooked, the recipe took almost 30 minutes. Overall, a nice effort and a good use of contest ingredients.

This was a marvelous recipe! It took 3 times as long for me to make as the directions indicated and I was tempted to rate it less than 5 stars because of that. But, we all liked it sooo much and already look forward to having it again and again - so I have to give it the 5 stars. Hopefully, I will get a little faster with practice in making it. I was tempted to leave the "green" off of my teenage son's, but decided to include it and let him pick it off. Instead, he ate it and commented on how much he liked that flavor with the eggs and wondered why restaurants didn't add spinach on their eggs benedict. Great recipe! Thank you!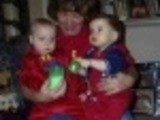 This was the first recipe that I made for RSC #11 and if this recipe is any indication there will be lots of wonderful sampling ahead. This recipe went together very quickly and reduced well to serve 2. The shallots were added to a skillet with a touch of butter and sauteed with the spinach being added and cooked until wilted. I used my recipe for microwaved poached egg and Sourdough English Muffins. Good luck in *RSC #11*.
Eggs Benny