Eggs Benedict (Sort Of) for 2
Nimz1466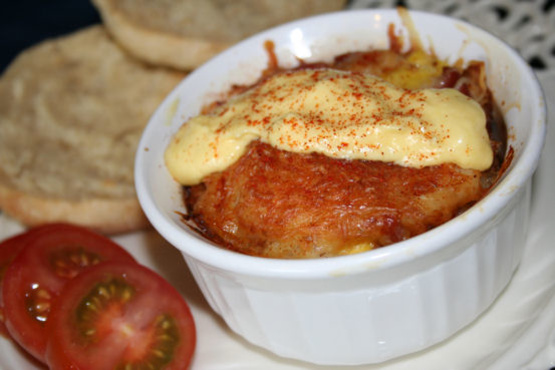 This is put together the night before, in the morning while baking, whip up a Hollandaise sauce...this also works at our house for dinner on a work night... I just added a green salad!!

The only ingredients that I had were the eggs and sliced swiss cheese. I toasted some wheat bread, chopped it and put in the ramekin, topped with a ripped up slice of swiss. I used a couple slices of deli honey ham and another ripped up slice of swiss. Poured the egg mixture over it and put it in the frig for about 30 minutes. I made a package hollandaise sauce right before they came out of the oven. It was wonderful!!! So easy to make and just the right size. I've been looking for something adult to make in addition to the kids french toast on our breakfast for dinner night. This was perfect. Next time I'm going to try english muffins, spinach, olives and feta.
Grease 2 - 8 oz. ramekins; set aside.
Cube toasted English muffins and place one in each ramekin to fill half way.
Sprinkle muffins with a large pinch of cheese.
Place a slice of Canadian bacon on next and top with more cheese.
Beat eggs slightly; add milk and seasoning to taste.
Divide among ramekins.
Cover and place in refrigerator overnight.
Bake uncovered at 350 degrees for 30 minutes.
Spoon Creamy Hollandaise Sauce on top and sprinkle with paprika before serving.