Food.com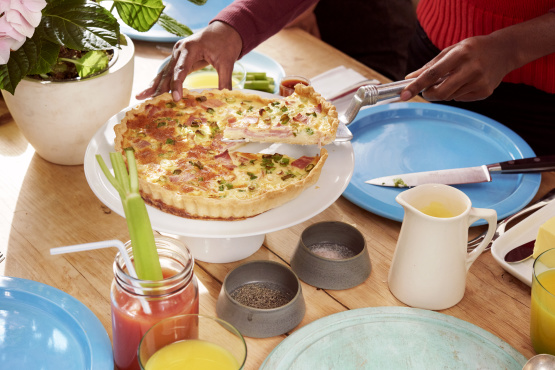 Love eggs Benedict but need to serve a crowd with ease? This mash-up makes the breakfast classic easier than ever.
Preheat oven to 350 degrees F and spread pie crust over 9-inch pie dish.
Sprinkle Canadian bacon and scallions over bottom of pie crust.
Whisk eggs, milk, salt, pepper and mustard powder together and pour into pie dish.
Bake for 45 minutes or until set.
Let cool while you prepare the hollandaise: Add yolks, lemon juice and mustard to a blender and blend until smooth.
With the blender running, add the hot melted butter to the egg yolk mixture and blend until thick.
Drizzle the sauce over the quiche and garnish with chopped chives.