This casserole tastes exactly like Eggs Benedict without the last-minute struggle. Just assemble the English muffins, Canadian bacon (or ham) and eggs like a strata and refrigerate it overnight, then all you have to do in the morning is microwave the Easy Microwave Hollandaise Sauce Easy Hollandaise Sauce to pour on top (I like to double the sauce recipe for this casserole, as it's so yummy!). Granted, the eggs are not poached, but the flavor is just as awesome. Serve Eggs Benedict Casserole with fresh strawberries, orange juice and coffee. Great for Mother's Day, or other morning feast. From the newspaper. Note: Be careful not to overcook. If using a glass dish, you may want to reduce the baking temp to 350 degrees F, or reduce the cook time slightly. Ovens vary.
Directions
Cut muffins into 1/2-inch cubes. Set aside. Cut Canadian bacon into 1/2-inch squares. Set aside. Whisk the eggs well in a 2-quart bowl. Whisk in milk and onion powder.
Spray a 9-by-13-inch glass or ceramic baking dish with cooking oil spray. Scatter half the Canadian bacon evenly in bottom of dish. Scatter muffin cubes on top of Canadian bacon. Top with the remaining Canadian bacon, scattering it evenly over the bread. Pour egg mixture over the casserole. Cover the dish with plastic wrap and refrigerate overnight, or at least 8 hours, to let bread absorb egg mixture.
Preheat oven to 375 degrees F. Remove casserole from refrigerator and uncover it. Lightly sprinkle the paprika evenly over the top. Cover the casserole with foil and bake for 40 minutes. Remove dish from the oven, remove foil, return dish to the oven and continue to bake, uncovered, until the eggs are set and the bacon on top begins to crisp, about 20 minutes more. Remove the casserole from oven and let it stand 5 minutes before serving.
While casserole bakes, make Easy Hollandaise Sauce (see my recipe #121586). To serve, cut casserole into squares and place them on plates. Spoon about 2 tablespoons (or to taste) warm Hollandaise Sauce over each serving just before serving.
Makes 10 servings.
NOTE: Time does not reflect refrigeration time of at least 8 hours, nor standing time of 5 minutes.
Most Helpful
I made this recipe for Sunday School at church, and it was a big hit! I tried another user's version of Hollandaise, and that is an experience I won't try again... Next time I'll just use a pre-made mix, like the Knorr package. But this base casserole is excellent, even without the sauce! In fact, if you're a fan of southwestern flavors, loading up with salsa, jalapenos, etc would be a really yummy touch!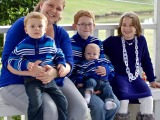 Made this for dinner, topped with your easy hollandaise sauce. I let it soak overnight. If I make it again, I won't let it soak as long or I will toast the muffins before assembling. They were a little soggy. A good eggs benedict alternative, but we'll probably stick to the real thing.
This was a great make ahead breakfast and a change of pace from other breakfast casseroles. I didn't make the hollanaise sauce but used Knorr packaged mix for convenience. If you use the mix, add 1-2 teaspoons of lemon juice.