Eggs and Mushrooms As I Like It!
nitko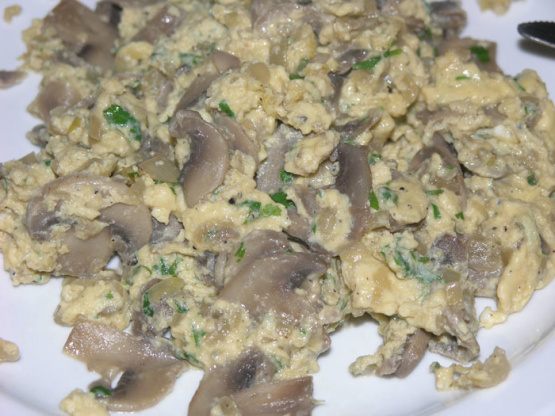 This is meal I liked to eat when I was a kid, and I still like it today. It can be nice light lunch or light supper. And if you want nice breakfast eggs that's the meal for you. It goes well with lettuce salad and beer.

Mixed reaction to this so I am giving it less than five stars but I do feel it was five myself. I did not measure each ingredient exactly. I used sea salt, freshly ground black pepper & a unrefined extra virgin olive oil. The complaint was it didn't have enough flavour.. I don't see it but I do feel most of the flavour came from my salt addition, but I am used to that!
Sauté finely sliced onion on olive oil until translucent. Slice mushrooms into tiny leaves and sauté until soft. Season mushrooms during this with salt and pepper. If water from mushrooms evaporates before they are done, add some water (just a teaspoon on two) and continue to sauté it until they are done.
Wisk eggs in separate bowl together with milk. Add parsley leaves into mixture.
When mushrooms are soft, add eggs and stir them in a pan. Fry until eggs are done. Serve hot.