Eggplant With Lamb and Pine Nuts
Prep 20 mins
Cook 30 mins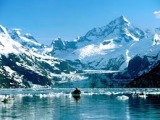 A Lebonese recipe from Jeff Smith. Rounds of eggplant topped with lamb in a flavorful sauce. You could serve this as a light main course, a side or even as an appetizer!
Directions
Brown the lamb, onion and garlic in the oil, in a large skillet over medium-high heat. Once the meat is browned, add the salt, pepper, tomato sauce, red wine, cinnamon, allspice and pine nuts. Cook for about 15 minutes while the sauce reduces a little.
Cut the eggplant into 1/2 inch slices. Lightly brown them in a separate skillet with just a touch of olive oil. Turn and brown the other sides. Do not overcook, just brown them.
Place the eggplant slices on a baking sheet and spread some of the filling on each.
Bake in a 375 degree F. oven for about 15-20 minutes, or until it is all hot and the eggplant is tender.
Reviews
Most Helpful
Made exactly as written for the FYC Tag Game @ FF&F - Gosh, this was good "Special K". You know I tinker with or expand recipes fairly often, but something kept me from it this time & was I ever glad. It was outstanding & I wouldn't change or add a thing. Loved the spicing of the garlic, allspice & cinnamon. It was yummy! Thx for sharing this sure-to-be repeated recipe w/us. :-)

Simply delicious! Investing in good wine paid off, adding lots of flavor to the dish; and a glass of wine was a nice compliment to such a great meal :) Following Dr. Jenny's suggestion, I served it with feta. It was a big hit. I followed the recipe to the t. The proportions were just right. Thanks for sharing.
DH and I made this for dinner last night. We love the combination of lamb and eggplant and I'm also fond of pine nuts, so I knew we would like it. This required little prep, which we liked after a long day of work. I would say as posted, this recipe is a 4, as I didn't find the lamb as flavorful as I had hoped. It needed something to give it a little more ummph. That something turned out to be feta, which once I sprinkled over the top of the lamb, did the trick and turned the recipe into a 5. Thanks for a nice meal, Kathy. Made for ZWT6.