Eggplant Stuffed With Goat Cheese & Mozzarella
JBs Girl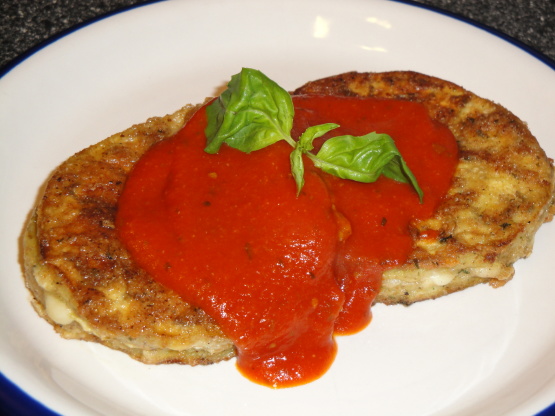 Very, very nice dish. Filling and delicious. Hope you enjoy as much as me and my DH do. Top with your favorite sauce or have it plain. Great as an appetizer or main course.
Peel and slice eggplant into 1/2 inch slices.
Beat eggs and heavy cream in a bowl.
Put flour in a bowl and mix with garlic powder, salt, and pepper.
Heat olive oil in skillet over medium high heat, I use 6 on my stovetop.
Take two eggplant slices and place half a slice of mozz cheese and 1 tsp of goat cheese on 1 eggplant slice. Place other eggplant slice on top like a sandwich and press together frimly. Repeat process till you have all stuffed.
Take one stuffed eggplant dip in egg and cream mixture then into flour, shake off excess flour and put in skillet. Repeat till all have been coated and in skillet.
Do not over crowd them, you may need two skillets.
Pan fry 5 minutes per side then place on parchment paper.
Add more olive oil to pan as needed.