Ms B.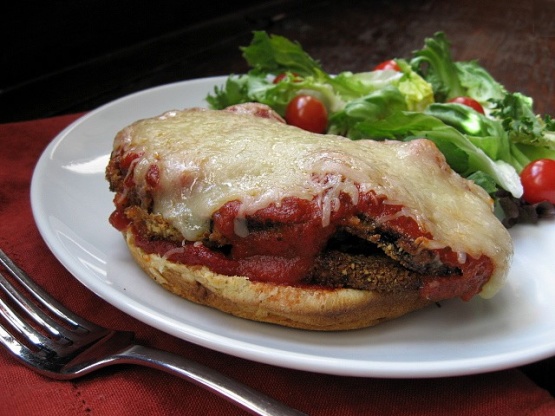 One of my very favorite meals! This recipe is easy and comes from a magazine and makes a nice open-face sandwich. You can always use the tops of the sandwich rolls for a traditional sandwich.

My guys are NOT big veggie eaters, but I am. So I opted for this last week and my gosh, my DH liked this! I peeled my eggplant b/c I knew they wouldn't eat it at all if I didn't. Lo and behold, my 10 year DS LOVED IT and ASKED FOR MORE!!???? Thanks
Cut eggplants crosswise into 1/4-inch slices.
Combine breadcrumbs and Parmesan cheese. Whisk together eggs and 3 tablespoons water. Dip eggplant into egg mixture, and dredge in breadcrumb mixture. Place on baking sheets coated with cooking spray. Coat eggplant with cooking spray.
Broil 12 inches from heat (with electric oven door partially open) 5 minutes on each side.
Place eggplant evenly on roll halves, and place rolls on baking sheet. Top with spaghetti sauce, and sprinkle evenly with mozzarella cheese.
Broil 3 to 5 more minutes or until cheese is melted and bubbly.