Eggplant Rolls filled with Basil and Cheese
najwa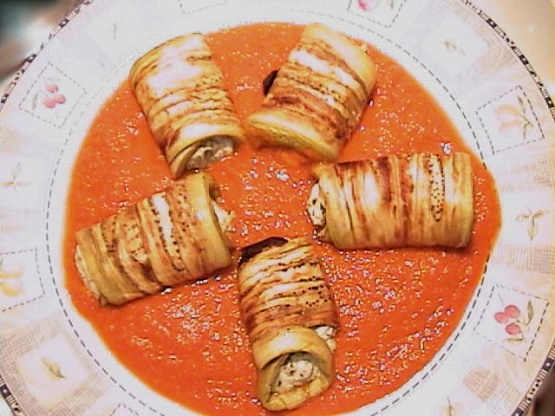 A sensational way to do eggplant - and easy too! Serves 6 as an appetizer, 4 as a main (vegetarian) course.

i didn't have the chevre or boursin cheeses on hand, so i used mozz and parm cheese with a slice of prosciuto and they were very delicious. the basil is a key ingredient and sould not be omitted. definately slice on the think side and make sure to peel it also. this would make an interesting appetizer.
For sauce: Cook onion in oil over moderately-low heat, stirring, for 3 minutes.
Stir in garlic and cook, stirring, until onion is softened.
Add tomatoes, sugar and salt to taste and cook over moderate heat for 20 minutes.
Puree mixture in processor until completely smooth and continue cooking over moderately-high heat for 5-10 minutes until thickened.
Make rolls: Preheat broiler.
In a bowl, stir together mozzarella, goat cheese and shredded basil.
Pat eggplant dry.
Arrange 1 layer of eggplant in a baking pan and brush with some of the oil.
Broil 4 inches away from heat source for 3-4 minutes, or until golden.
Turn, brush with remaining oil, and broil 3-4 minutes more.
Transfer to a large platter to cool.
Spread a mounded teaspoon of the cheese mixture lengthwise down the middle of each eggplant slice, leaving a 1 inch border at the wide end and, beginning at the narrow end, roll up jelly roll fashion.
Arrange rolls, seam side down, in a oiled pyrex baking dish just large enough to hold rolls in one layer and broil for 3 minutes or until cheese is just melted and bubbling.
Transfer to serving plates, spoon sauce over and garnish with basil.