Eggplant Parmigiana and Italian Meats Casserole
Boomette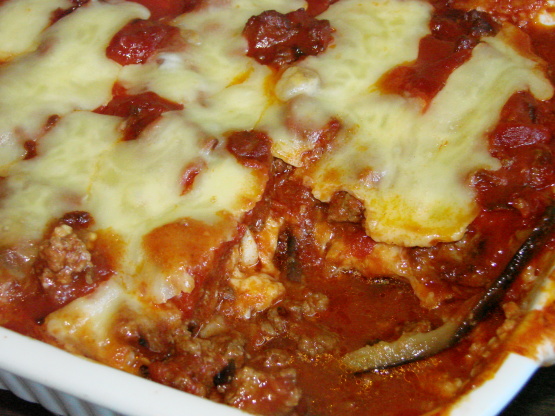 This combines eggplant parmigiana with lasagna....meat and eggplant, plus lots of cheese.
This recipe takes a lot of time to do but it's worth it. The taste is amazing. I'm beginning to like eggplants. The taste of the sauce is wonderful. It's almost a lasagna without pasta. I used lean ground beef, spicy italian sausage. I didn't add the 28 ounces can tomato puree cause I didn't have any left in the pantry. So at the end, I added vegetable juice in the baking dish where there was sauce missing. I used only 1/8 cup sugar. Thanks Breezermom :) Made for 123 hit wonders
1

lb ground round

1

lb mild Italian sausage

1

(28 ounce) can Italian-style tomatoes, undrained

1

(28 ounce) can tomato puree

1

(6 ounce) can tomato paste
3 1⁄2 cups water
1⁄4 cup sugar

2

garlic cloves, crushed

1

tablespoon fresh basil, chopped

1

teaspoon fresh basil, chopped

1

tablespoon fresh oregano, chopped

1

teaspoon fresh oregano, chopped
salt and pepper

1

large eggplant
1⁄2 cup olive oil

2

cups mozzarella cheese, grated (8 oz)
1 1⁄2 cups parmesan cheese or 1 1⁄2 cups romano cheese, grated

1

(6 ounce) package mozzarella cheese, slices, cut into thin strips
Cook ground round in a skillet until browned, stirring to crumble meat. Drain, reserving 3 tbsp drippings. Set meat and drippings aside.
Cook sausage in skillet until browned, stirring to crumble meat -- if in casings, remove casings. Drain, set aside.
Combine ground round, reserved drippings, tomatoes, and next 9 ingredients in a Dutch oven. Cook, uncovered, over medium-low heat 2 hours. Remove and discard bay leaves.
Cut eggplant into 1/4 inch slices. Saute eggplant in olive oil in a large skillet over medium-high heat until almost tender; drain.
Spread 1 1/2 cups tomato mixture in a 13x9x2 inch baking dish. Layer half each of eggplant slices, shredded mozzarella cheese, grated parmesan cheese, reserved sausage, and tomato mixture. Repeat layers.
Top with mozzarella cheese strips.
Bake at 350 degrees for 45 minutes or until lightly browned and thoroughly heated.