Isabeau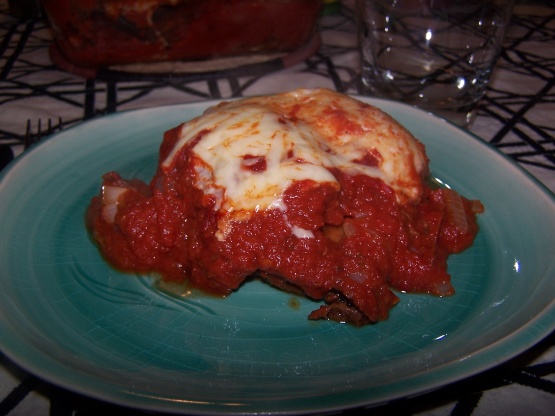 An easy vegetarian main dish. My mom's recipe.

This was a very good recipe. I sauteed the onion, green peppers and some garlic in oil and then added the tomato puree (we love garlic in our sauce). It turned out very good and I would make it again. I will add some fennel next time with the seasonings. Served with a green salad. Thank you! Made for Spring PAC 09.
Slice eggplant.
Lightly salt and pepper each slice.
Dip each in bread crumbs, coating both sides.
Dip each in whisked egg and then again in bread crumbs, coating both sides.
Fry in 1/8 inch of oil until tender, turning once.
Layer in 2 quart baking dish.
Saute onions and peppers; add to eggplant.
Combine tomato and spices in skillet or sauce pan, heating through.
Pour sauce over vegetables.
Top with grated cheese.
Bake in 350F oven 20-30 minutes, until heated through and cheese is melted.