Eggplant Parmesan Lasagna
Prep 15 mins
Cook 1 hr 10 mins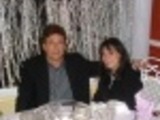 Layers of frozen breaded eggplant, no-cook noodles, marinara sauce, tomatoes, and two cheeses make this lasagna extra-easy and super-tasty.
1 (24 ounce) jar marinara sauce
2 (14 1/2 ounce) cansdiced tomatoes with garlic, basil and oregano
1 (15 ounce) container ricotta cheese
1⁄4 teaspoon italian seasoning
1 (8 ounce) package no-boil lasagna noodles (12 noodles)
1 (16 ounce) packagefrozen eggplants, cutlets (breaded Italian-style)
3 cups shredded mozzarella cheese (12 oz.)
basil sprig (optional)
Directions
Preheat oven to 400 degrees. Lightly coat 13x9-inch baking dish with cooking spray. In large bowl, combine marinara sauce and tomatoes with their juices. In separate bowl, combine ricotta and seasoning. Spread 1 cup sauce mixture over bottom of baking dish.
Layer 3 lasagna noodles, half of ricotta mixture, 3 noodles, 1 cup sauce, half of eggplant and 1 cup mozzarella over sauce in dish. Repeat layers once, reserving 1 cup mozzarella. Top with remaining sauce.
Cover with foil; bake 30 minutes. Uncover, bake until bubbly, about 10 minutes. Sprinkle with remaining mozzarella. Bake until cheese is melted and lightly browned, about 10 minutes. Let cool 20 minutes before serving. Garnish with basil, if desired.
Reviews
Most Helpful
Yummy! I did only add 1 can of the diced tomatoes, and since I only had fresh mozzarella I also added parmesan as well. I think next time I'll skip the lasagna noodles and use lasagna pieces instead to fill in the cracks.. thank you Jackie! :)
i am giving this recipe 3 stars for the brilliant concept, using frozen eggplant cutlets(which worked) and no boil lasagna noodles(which worked in theory). the rest of the recipe, not so much.
too much tomato! and NOT ENOUGH CHEESE, too many lasagna noodles