MISSIB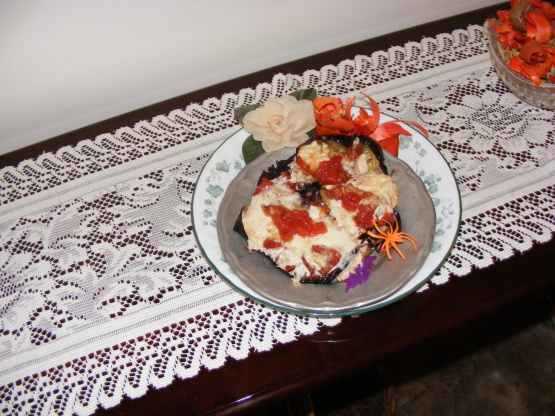 Due to an abundance of eggplant in the garden, I was looking around online for recipes with eggplant in them. I found this one and made it...it was delicious.

Top Review by MISSIB
I am only giving a 3-star which may not seem fair but I followed recipe exactly and found that in doing so my eggplant came out too "soppy" if that is a word and I don't want to be unkind here. I think if I were to make this again, I would use a little less cheese and bake it for a shorter period of time. Please note that this is just how me and DH feel perhaps the rest of you would like it just fine. Taste was good. I will post a pix but it doesn't really do it justice. Also, should I have peeled it, cuz my dh said it had a bitter taste. I just ate the middle, not the skin-part. It had a nice taste, even if it was a bit "soppy"
Cut eggplants lengthwise into 3/4 to 1 inch thick slices.
Place a few slices in a colander and sprinkle with a little kosher salt.
Continue steps 1 and 2 until all eggplants are sliced and in the colander.
Put a plate that just covers the eggplant on top and weight it down with a heavy can.
Let eggplant drain in sink for 45 minutes to 1 hour.
Pat eggplant dry.
While eggplant is draining in sink:.
In a heavy sauce pan, heat 2 tablespoons of olive oil.
Add onion and cook until soft.
Add garlic and cook an additional minute of two.
Add tomatoes, salt, pepper, and red pepper flakes.
Cook over low heat until the sauce has thickened, about 30 minutes.
Add chopped basil and mix well.
Turn on oven broiler and place eggplant slices flat on a lightly greased baking sheet.
Lightly brush the tops of eggplants with olive oil.
Broil until lightly browned.
Turn eggplants over and brown.
Preheat oven to 350 degrees.
In large baking pan, first spoon in a little sauce to just cover the bottom of pan.
Place a layer of eggplant slices side by side without touching each other.
Spoon a little sauce on each slice.
Sprinkle a little of each of the grated cheeses on each eggplant.
Repeat steps 20 thru 22.
Bake, uncovered, until bubbly and lightly browned, about 35 to 40 minutes.