Peter J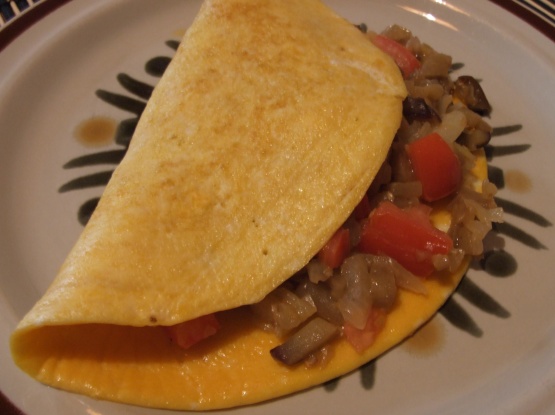 I usually just make this into scrambled eggs rather than making an actual omelet and filling it. You can adjust the amounts of any of the ingredients up or down as you prefer. I use the really thin, long type of eggplant that is only about an inch in diameter. You can use any type of eggplant you like.
Dice the eggplant into small pieces.
Heat the olive oil in a small, non-stick skillet over medium heat.
Saute the eggplant pieces until they start to brown slightly. Add the onion and continue sauteeing until the eggplant is tender and the onion is translucent. Add the tomato and saute until the tomato is heated through.
Add 2 eggs per serving and scramble with the vegetable mixture until well blended and the egg is cooked to your prefered level of done.
If you prefer, make an omelet with the eggs and fill it with the vegetable mixture before folding.
Season with seasoned salt and/or pepper to taste.