Eggplant Lovers Stuffed Eggplant
Ghymes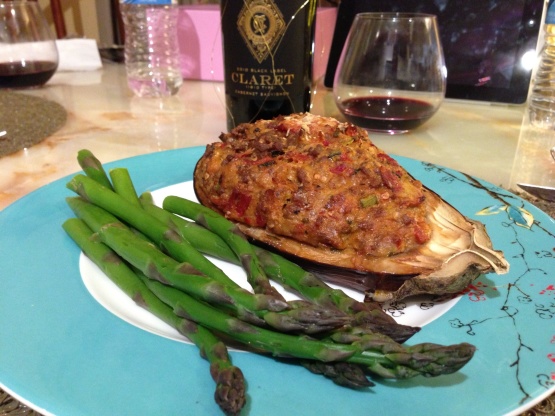 This is a delicious ground beef and eggplant dish for eggplant lovers! I have varied this dish several times by using ground pork and also Italian sausage meat either pork or chicken in place of the ground beef.

This was very good. It was a great way to showcase the fresh vegetables and herbs from my garden. I used extra lean ground beef and I didn't change much, as the recipe is appealing as written. I saved a step and did not boil the eggplant. Instead, I sauteed it until soft when I did the peppers, onions and garlic. It was very good this way. I also added a little drizzle of olive oil over the top before baking. I highly recommend using fresh basil in this one, it really brightens the dish. Thank you for posting!
Preheat oven to 350 degrees F.
Cut the eggplant in half and scoop out the center, leaving enough meat inside the skin so that it holds its shape when baked.
Boil the scooped-out center part until very soft, about 10 to 12 minutes.
Meanwhile, in a medium saute pan heat 1 tablespoon olive oil over medium heat. Season the beef with salt and pepper.
Add the seasoned ground beef to the pan and saute until all of its liquid is evaporated and the beef begins to brown slightly.
Drain the beef, removing the extra, unnecessary fat. Let cool briefly and chop the cooked beef so that there are no large chunks of meat.
In another medium saute pan over medium heat add the remaining 2 tablespoons olive oil and saute the onions, peppers and garlic together.
In a bowl mix together the cooked eggplant, vegetables, cooked beef, herbs, 1 cup of the cheese, bread crumbs, and the egg.
Fill the scooped-out eggplant halves with this mixture, dividing it evenly among the 2 halves.
Top with chopped tomatoes and the remaining 1/4 cup of grated cheese, season with salt and pepper, place on an oiled oven tray or baking dish, and bake for 60 minutes in preheated oven. Let cool briefly, slice width-wise and serve.