flower7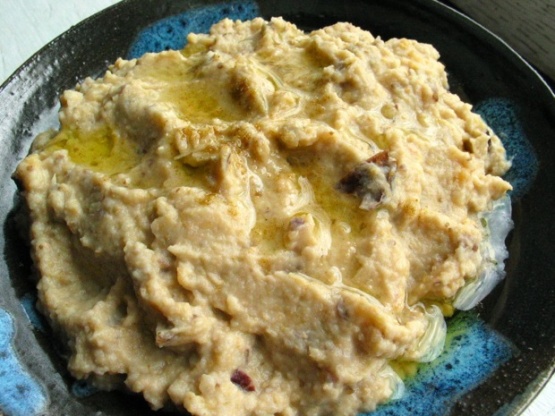 This healthy dip (which we call "hummus ganouj" ) is great with pita or vegetables (baby carrots, sliced bell pepper, cherry tomatoes). If you don't have a blender, finely dice the garlic and mash the chickpeas with a fork, and mix with all the other ingredients. Although the result won't be as creamy, that's how hummus was made before blenders existed.
Pre-heat the oven to 400°F.
Prick the eggplant with a fork and place on a greased cookie sheet. Bake for about 40 minutes or until it collapses on itself. Slice it open to cool.
If desired, remove the skin of the eggplant with your hands before adding the flesh to the blender. I like the skin so just drop the whole eggplant in the blender.
Add remaining ingredients and blend until smooth. If the hummus is too thick, add more water a tablespoon at a time until it reaches the desired consistency.
If you'd like, garnish with paprika, pine nuts, olive oil, and chopped basil or other herbs.