Eggplant Curry "no-Fry" Sri Lankan Style Using Coconut
Rita1652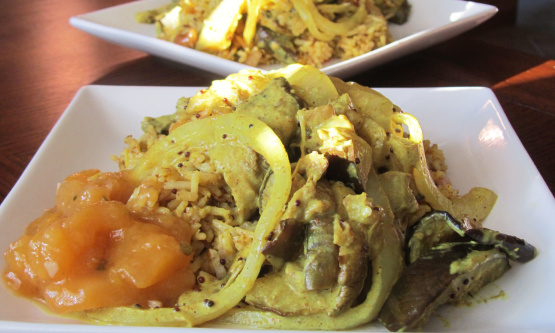 Another recipe courtesy of the great Madhur Jaffrey. I'm often looking for new eggplant dishes, and can't believe I haven't tried this particular recipe until today, it's really very easy. From what I've read, traditionally in this dish the eggplant would be fried - in this version it is broiled which obviously cuts down on the calories quite substantially. I also used light coconut milk. I only had one eggplant on hand today and it turned out great, a nice side-dish or main for 2. I can imagine that by using two regular eggplants you would be able to serve at least 3, if not 4, as a main. Next time you run across good looking eggplants in the store, pick a few out and give this a try! (One last note, apparently the original version of this normally calls for 2 tsp of cayenne...wow, that would be hot. 1/2 tsp, as called for here, was just about right for us, but of course, season away as you like!).

We enjoyed this recipe last night for dinner, which we served over basmati rice. I got the 15 curry leaves from my curry plant. I used light coconut milk and a heaping half tsp of cayenne. The only modification I made was to leave my mustard seeds whole like another reviewer indicated. This was a very nice curry. Thanks for posting.
Preheat your broiler, placing the rack about 6 inches below the heat source. Cut the eggplant into 1/2 inch thick round slices (no need to peel). Place the slices on a baking sheet and lightly brush with about 1 tbsp of the oil, on both sides.
Place the tray under the broiler and cook on one side for about 4 minutes, flip and do same on other side. It will depend on your broiler, you're looking for light browning on both sides. Remove and set aside to cool slightly.
When you're able to handle the eggplant, cut the pieces into quarters. Place them in a bowl along with 1/2 tsp sea salt, the cumin, coriander, turmeric, fennel, cayenne and lime juice. Toss gently.
Put the remaining tbsp of oil into a skillet and bring to medium-high heat. When hot, add the cinnamon stick and a few seconds later, the curry leaves if using. Stir once and then add in the sliced onion.
Let the onion saute for a few minutes and then add in the seasoned eggplant. Mix that together and continue to cook for a few minutes.
Add the mustard seeds to the coconut milk and pour it into the pan. As soon as it starts to bubble, reduce the heat to medium-low and cook for about 5 more minutes.
Adjust seasonings to your taste (salt, pepper, lime juice, cayenne -- ). Serve hot with rice or flat bread.