awalde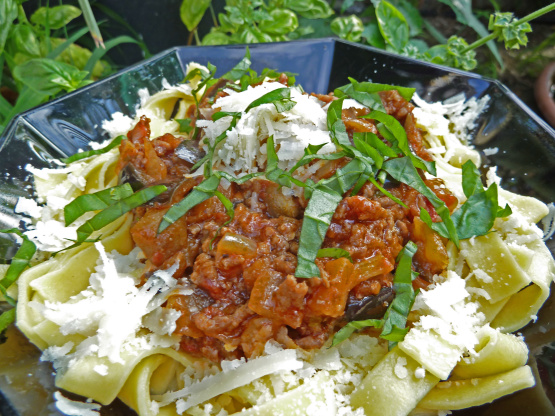 From Cooking Light, this is an amazingly flavorful pasta dish. Only 1/2 lb. ground beef and a lot of healthy veggies. Definitely a great meal for a cool night!
Heat olive oil in a Dutch oven over medium-high heat. Add onion, 1/4 teaspoon salt, 1/4 teaspoon pepper, and beef; cook 10 minutes or until beef is browned, stirring to crumble beef. Add eggplant, garlic, 1/4 teaspoon salt, and remaining 1/4 teaspoon pepper; cook 20 minutes or until eggplant is very tender, stirring occasionally. Add tomato paste; cook 2 minutes, stirring constantly. Add wine; cook 1 minute, scraping pan to loosen browned bits. Add tomatoes; bring to a boil. Reduce heat; simmer 10 minutes, stirring occasionally and breaking up the tomatoes as necessary. Add remaining 1/4 teaspoon salt and red wine vinegar.
Cook pasta according to package directions, adding 1 tablespoon kosher salt to cooking water. Drain. Toss pasta with sauce; sprinkle with basil leaves.