Eggplant (Aubergine) With Raw Garlic
Rita1652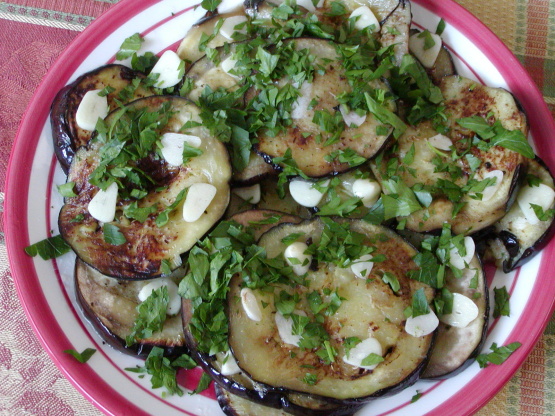 This is very similar to a dish I enjoy at a fabulous Toronto restaurant, Jerusalem -- but the restaurant's version doesn't use raw garlic. I love the taste of this dish. If you're the only eggplant lover in your household (like I am), use a smaller eggplant, cut the sauce ingredients in half, and enjoy this yourself.

I am the only eggplant lover in my family, but I used a large eggplant and ate it all. This is a great lo-cal recipe and has a great flavor. I also used the eggplant as a base for some mousaksa that I was preparing. This is perfect for my diet and I ate it all.
Wash eggplant well; cut off stem portion (leave peel on).
Slice eggplant into quarter-inch slices and brush each side with extra virgin olive oil.
Heat a nonstick skillet over medium-high heat and brown eggplant slices until they are golden brown on each side.
On a serving platter, arrange cooked eggplant slices.
In a small measuring cup, combine the garlic, lemon juice, the one tbsp of extra virgin olive oil and the salt.
Drizzle over the eggplant slices, sprinkle with parsley, and serve.