Eggplant (Aubergine) Soup
Ms B.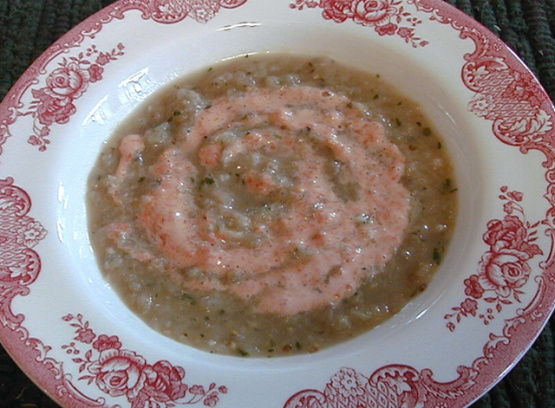 I know eggplant is not thought of as a typical vegetable for soup but it can actually be quite tender and delicious. Can be made vegetarian.

Top Review by Ms B.
The best part of this soup is the pepper cream. It is wonderful, and I can think of many uses for it. However, I found the diced eggplant to be a bit bitter. I decided to try whirling the soup with a wand blender which seemed to help disburse and blend the flavors of the soup and tame the bitterness. I added some finely minced parsley for color and upped the shallots and garlic. I think that roasting the eggplant, shallots and garlic would bring out the sweetness of the veggies and produce a better overall flavor for the soup.
SOUP

2

tablespoons virgin olive oil

1

small eggplant, peeled and chopped (1 pound)

2

shallots, peeled and minced

1

garlic clove, peeled and minced
2 1⁄2 cups vegetable stock or 2 1⁄2 cups chicken stock
salt and pepper

PEPPER CREAM GARNISH

1

medium red pepper, stemmed, seeded, and quartered

2

tablespoons light cream or 2 tablespoons evaporated milk
salt and pepper
Heat oil in the saucepan, and saute the eggplant and shallots together, over a low heat, stirring frequently, for about 15 to 20 minutes.
Do not allow eggplant to brown.
Add the stock, and adjust the salt and pepper to taste.
Remove from heat, stir in the pepper cream, and serve immeadiately.
PEPPER CREAM: Place the pepper pieces under a broiler, and heat, turning until the skin starts to change color.
Remove from the broiler and cool.
In the container of a blender combine the pepper, cream, and salt and pepper to taste.
Process on low until the pepper is just chopped fine.
Remove from the blender and use as desired.