Eggplant (Aubergine) Skillet
fawn512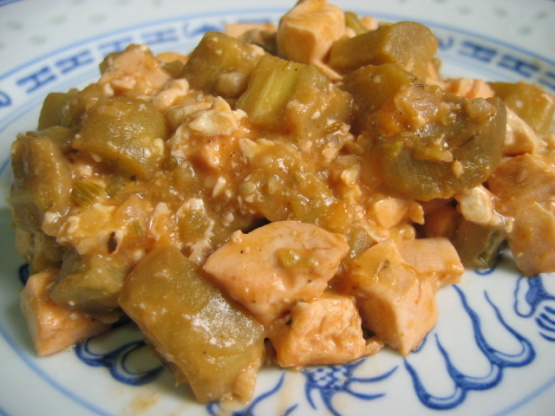 This recipe is derived from one found in the Better Homes and Gardens Casserole Cookbook many years ago.
Sprinkle eggplant heavily with salt.
Let stand for 15 minutes on paper towels to drain bitter juice.
Rinse and pat dry.
Season to taste with salt and pepper.
Cook beef, onion, garlic, and celery in a skillet until meat is browned, crumbling meat as it cooks.
Drain excess grease.
Stir in tomato sauce, water, oregano and chili powder, and season to taste with salt and pepper.
Bury eggplant slices in meat sauce, cover, and simmer until eggplant is tender.
Top with cheese and sprinkle with paprika.
Cover, and continue cooking until cheese is melted.
Serve with Parmesan cheese on the side.