Eggplant (Aubergine) Salad
mliss29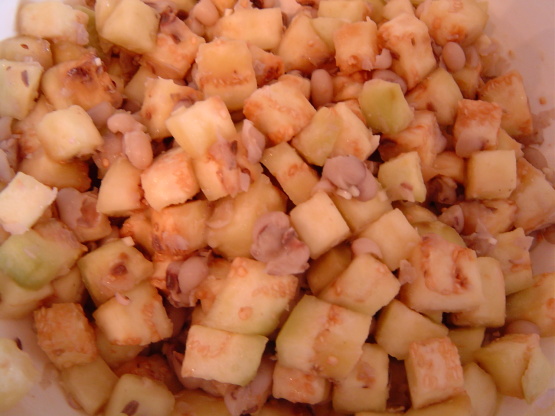 Ethiopia Posted for Zaar World Tour 2006. I'm not a fan of eggplant unless it is breaded and fried. Hope you'll enjoy this recipe.

I was curious to try this for ZWT4. I'm glad I did because I actually like it, which was a bit of a surprise. (It's kind of a weird combination by American standards.) I made half a batch but put in a whole lemon because mine was kind of puny. I may not have put in the whole amount of garlic, but I used a good knife and minced it really fine. All-in-all, a good salad and if my husband doesn't turn out to like it, more for me!
Place the diced eggplant in a bowl.
Mix the salt and lemon juice together and pour over the eggplants.
Let sit for 30 minutes.
Sprinkle on the oil and toss well.
Gently stir in the garlic, beans, and sugar.
Season with black pepper.
Recipe did not call to chill this but I think it might taste better chilled.