Eggplant (Aubergine) Persillade (Julia Child's)
PaulaG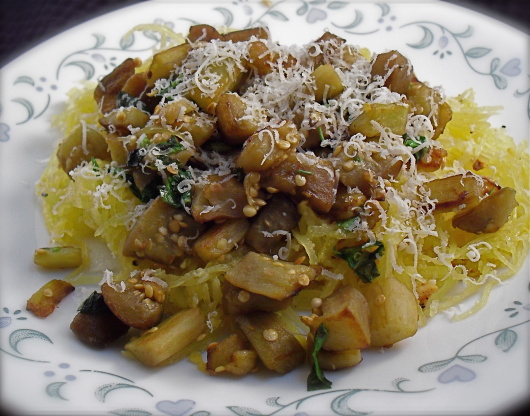 From Julia Child and More Company. She suggests serving over prepared spaghetti squash (and suggests steaming the squash as the easiest method). I am persuaded by the reviews of Properly Prepared Spaghetti Squash to recommend it instead.
Top Review by PaulaG
This was a winning recipe and something I will make again. I did not have the fresh parsley; however, did have fresh basil and with all the garlic I went ahead and substituted the fresh basil. It was served on top of recipe #162765 as suggested with a side salad for a delicious and healthy meal. Made for *Aussie Swap*
Peel eggplant and cut into half-inch dice.
(If you wish, salt cubes with 1/2 t salt, let drain for 20 minutes, then dry in a towel--optional).
Film large (preferably nonstick) skillet with the olive oil.
Saute eggplant cubes over medium-high heat for 4-5 minutes, until tender.
Add minced garlic and toss for a couple of minutes.
Add parsley only at the last minute and toss before serving.
Fine alone (hot or cold) as a side dish, or serve over prepared spaghetti squash.
May toss with optional parmesan cheese.