Eggplant (Aubergine) Parmesan
Rita1652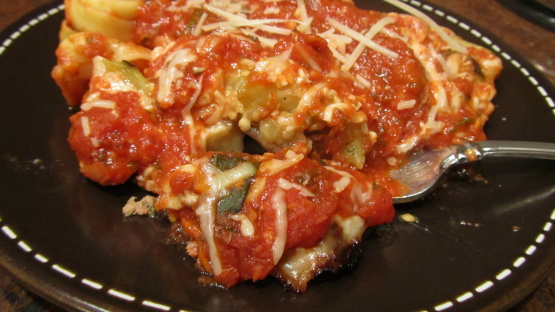 This is an adopted recipe from MeanChef, a former member, his version of a popular dish. No frying involved, so it is healthier for you! A nice easy recipe. Personally, I like to dredge the oiled slices of eggplant in fine dry breadcrumbs before roasting it in the oven, then I put the sauce in the dish, layer the eggplant, mozzarella (thin slices) top with more sauce, more cheese until I have used the amount I prefer; as noted in the reviews, most chefs use less cheese than specified in the recipe. To me a recipe is a guide that I make 'my way' ! I often add dried basil in the sauce when I don't have fresh basil to layer. I don't add salt, I find the sauce and cheeses are salty enough for my tastes.

I think that I could eat this every other day for the rest of my life and be QUITE happy. I left out the basil as I felt that would be overkill. I wanted to taste the eggplant, and I cut the cheeses in half as well for the same reason. Since there were no cooking times listed in the recipe here is what mine took. The eggplant about 15 minutes, and the total dish about 30 minutes to get it bubbling. I also warmed the sauce as well before cooking. This is a fantastic treat.
Slice eggplant into rounds at least 1/4 inch thick.
Brush rounds with olive oil on both sides, sprinkle with salt and pepper and roast at 425 degrees on a parchment lined sheet pan until completely cooked.
In a casserole dish, spread a thin layer of marinara sauce, a layer of eggplant, a layer of marinara, a layer of mozzarella, a layer of basil and a layer of parmesan.
Repeat until all ingredients are used.
Bake in a 375 degree oven until the casserole is bubbling.
Remove from oven and let rest for 5-10 minutes before serving.