Eggplant (Aubergine) Lasagna
Parsley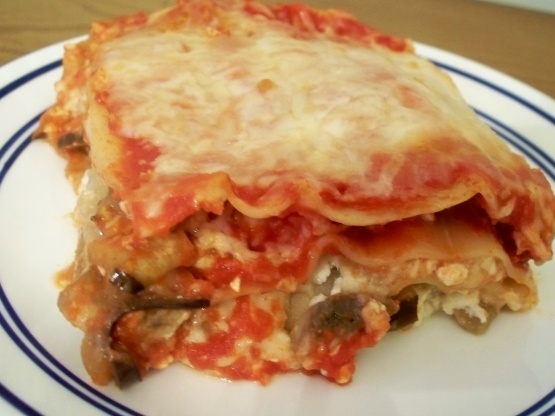 A great way to use eggplant. This is a great lasagna, but in my opinion, many of the amounts need to be corrected. Eight oz of ricotta and 4 oz (that's ONLY 1 cup for THREE layers) of mozzarella wouldn't be enough, so I doubled the ricotta and pretty much tripled the mozzarella. I also doubled the amount of spaghetti sauce. I added garlic to my sauce as well. This woked great with the oven-ready lasagna noodles (with doubling the sauce of course). I covered and baked this at 375 for 45 minutes as on the noodle package. Then I uncovered it and baked 15 minutes more. Awesome and different lasagna! I'll make this again the same way. Thanx for sharing.
Cook lasagna noodles while that's boiling,.
Brown eggplant slices; set aside.
Saute onions and mushrooms in same skillet.
In a 11 x 7 inch baking dish, spoon 1/4 cup of sauce.
Arrange three alternate layers of noodles, ricotta, mushroom mixture, Mozzarella cheese, eggplant slices, sauce, and Parmesan cheese.
Cover and bake about 30 to 40 minutes at 350 until heated through.