Eggplant (Aubergine) Hush Puppies!
Barb G.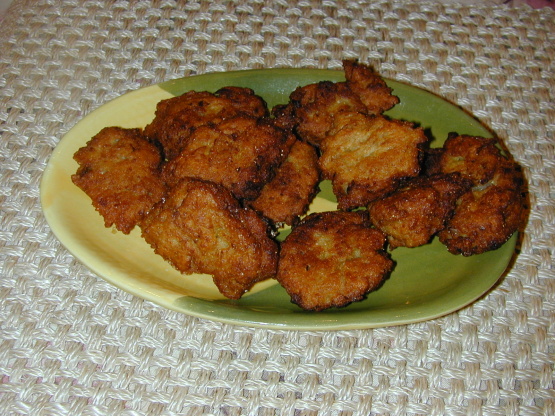 Try this instead of the traditional hush puppies!

Ohhh, these were sooo good! Five stars just does not tell the story! I followed the recipe with just one exception, I added a big splash of hot sauce. I am a big eggplant fan and this recipe will be a regular on my dining table.
Put the eggplant cubes into a colander and steam, covered, over boiling water until tender, about 25 minutes.
Sprinkle with salt and set aside.
Meanwhile, combine the corn meal, flour, baking powder and 1 1/2 teaspoons salt in a bowl.
Push the eggplant through the colander into the bowl in small amounts, mixing in enough eggplant to make a medium stiff dough.
Stir in the onions.
Set the mixture aside for 15 to 30 minutes.
Drop the mixture by teaspoonfuls into deep oil heated to 365 degrees and fry until golden.
Drain on paper towels.
Enjoy!