Eggplant (Aubergine) Fit for a Sheik (Sheik Al Mihshee)
Bergy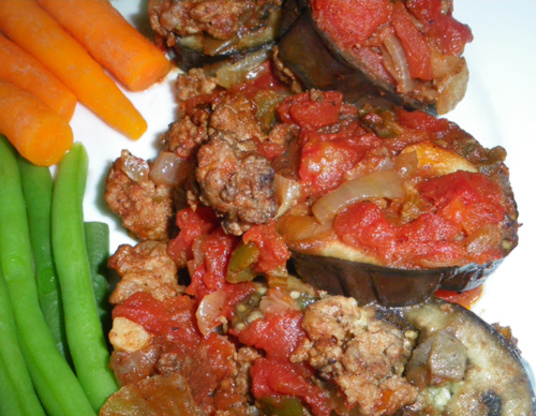 My grandmother NEVER told me this was eggplant, or I never would have eaten it. Darn it! I guess I really DO like eggplant. The nerve of her! Prep time includes time to allow eggplant "sweat" or drain.

Wow, this was good! I veganized this by substituting chopped seitan for the meat and sauteing it with the onions, and it was delicious. I rinsed the eggplant after sweating it, and only lightly sprinkled salt on the seitan-onion mixture, and it was fine, as the seitan is flavorful enough on it's own. Even my teenager thought it was great! Thank you for posting this, we'll be enjoying this again!
Lay out slices of eggplant on a large platter, and sprinkle with salt.
Let sit for approx 1/2 an hour.
Drain off water.
Brown meat and onions.
Add garlic, cook and stir for another minute, then drain.
Combine tomatoes with remaining seasonings.
Butter a casserole.
Layer half beef mixture, eggplant, tomatoes.
Repeat.
Cover.
Bake in an 450°F oven for 1 hour.