Eggplant (Aubergine) Casserole
Parsley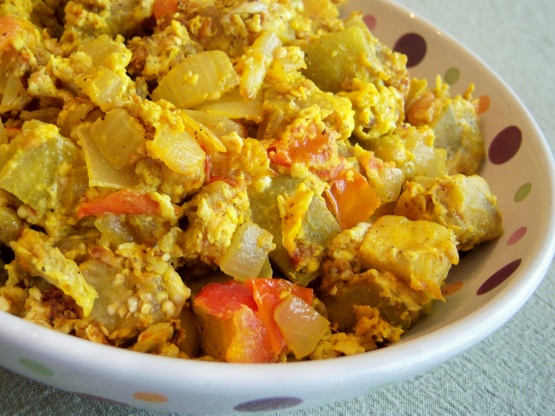 This is a great recipe for anyone, especially vegetarians.
Place eggplant on oiled sheet pan& bake in a 350 degree oven, turning it once, until soft.
Remove from oven& slightly cool& peel.
Cut into 1/2" pieces.
In a large pan combine olive oil, onions& garlic& sautè on medium flame until golden brown.
Add tomato, tumeric, eggplant, salt& pepper.
Stir to evenly combine.
Cook 1 or 2 minutes over medium flame.
Add the beaten eggs.
Just as the eggs begin to solidify, stir.
Continue to stir until the eggs are completely solidified.
Add more salt& pepper if desired.
Place into a serving bowl& serve hot.