Eggplant (Aubergine) & Avocado Salad
mliss29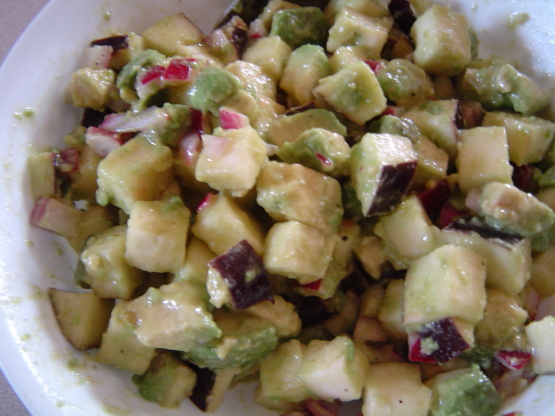 I was looking for Raw (no cook) recipes and found this by Allan Smith. Healthy and low in Calories.

I have an interest in Raw foods and like to try recipes that I come across on Zaar that sound intriqing...I was pleased to find this as an option from one of my team mates while playing in the ZWT3. I used 2 fabulous avocados, 3 fat cloves of garlic and a generous amount of the red onion. I soaked the diced eggplant in a bath of ice cold water with a ton of lemon juice and some sea salt for about 1/2 hour. I did not have any dulse flakes...so to play with the texture and acidity I ribbon cut a couple of sun-dried tomatoes into the dressing. I allowed the mixture to sit at room temp for an hour before serving it and LOVED the finished product... it was even better the following day after being chilled when the flavors had been allowed to mingle together...I used the honey to balance the lemon-tart and that sat in the salad mix as well...in my opinion it is key to the dish... The raw eggplant is a nice surprise...almost apple like with the way it is treated here, but of course not as crisp. The flavors are wonderful, the dish is different and creative. Perfect for the summer weather!! I loved it, Thanks ~Rita~!!
Pare and dice eggplant.
Place in a deep bowl and immediately cover with cold water and juice of 1 lemon.
Whisk together oil, garlic, dulse flakes, pepper and juice of 1 lemon.
Set aside.
Peel and dice avocados.
Place in bowl and toss immediately with juice of 1 lemon.
Drain eggplant and combine with avocados.
Add chopped onion.
Whisk dressing again and add to mixture.
Toss gently.
Set aside for about 15 minutes.
Chill if desired.
Before serving, toss gently again and sprinkle with honey.