Eggplant (Aubergine) and Feta Casserole
Parsley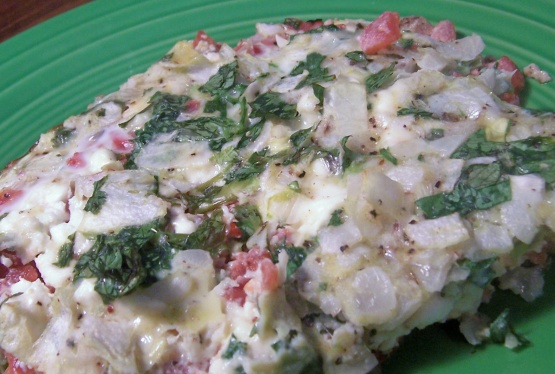 This is a new favorite of mine. I was blown away by the wonderful flavors. I'm not a vegetarian but didn't miss meat with this. The onions turn out still crunchy, which I liked but if you don't you might try sautéing them in a little oil first.

Although I didn't add the cilantro this time, I felt this was a great GF dish. I "fried" the eggplant in the oven at 450 degrees after spritzing the slices with oil and putting them on parchement paper. If you cook the casserole covered for more time (I did 40 minutes), then the onions are not crunchy.
Heat oven to 300°F; spray oil a casserole dish (I used a low oval one).
Spray oil a large frying pan and heat over high heat. Place eggplant slices in a single layer (you may have to do 2 batches). Cook for 3-5 minutes each side until browned. Place in prepared casserole dish evenly across the bottom (some may overlap).
Pour stewed tomatoes over eggplant in an even layer, then feta, parsley and cilantro (in that order).
In a small bowl, combine eggs, onion, salt, pepper, allspice, oregano, sage and cayenne. Pour evenly over items in casserole dish.
Cover and bake for 30 minutes. Remove cover and bake for another 10-20 minutes until firm.
Serve hot or cold.