Eggplant Appetizer from Nigeria
Prep 10 mins
Cook 30 mins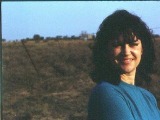 POSTED FOR ZWT 4. A simple spread made to eat with flat Arabian bread.
Directions
Bake or steam the eggplant until tender -- about 25 minutes.
Scrape out the soft flesh from the skin. Add the sesame paste to this, the salt, garlic and lemon juice.
Mound on a small dish and sprinkle with parsley. Serve with flatbread.
Reviews
Most Helpful
This recipe is SO good
Yum, this was so good! I love finding new spreads for bread and I loved the tahini, garlic, and lemon together with the eggplant. Though I only used half the amount of lemon juice listed. I was really happy with how quick it was to make and ready to eat. I wanted something I could put together in a few minutes to snack on and this turned out perfect! Thanks Zurie! Made for ZWT4 - Los Jefes de la Cocina.